Review: Plastimo Raid P240SH inflatable boat
Good value and ready to use for less than $1000
Nothing says "Should've got shoal draft" like the sudden need for a tender. This sudden need came from a sweet deal on a season's worth of a mooring. A mooring is cheaper than a dock slip. The difference in price is about the same as the cost of a small, inexpensive dinghy. And at the end of the season, I get to keep the dinghy.
Geez, I'm smart.
Contents
My requirements
Less than $1000
Carries 2 adults and some cargo
Can be carried by one adult
Stows compactly
What I got
I'm satisfied with my choice: the Plastimo Raid II P240SH. The boat is made in China but Plastimo is a French company. The French lead the world in sailing ass-kickery these days, so I'm guessing that Plastimo is riding that wave.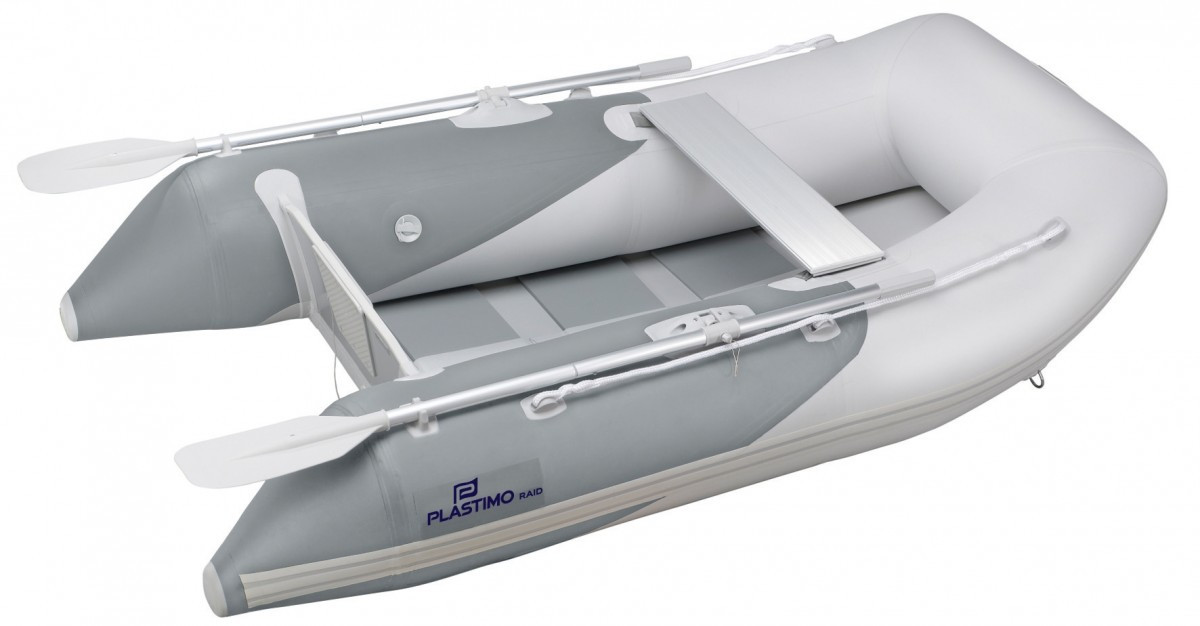 Length: 2.4 m / 7 feet 10 inches
Beam: 1.4 m / 4 feet 8 inches
Draft: barely any
Weight: 21 kg / 46 lbs
Capacity: 350 kg / 770 lbs
Engine: 5 HP max
Unboxing
It ships in a single box. One person can carry the box with only some difficulty if that person is not barefoot while walking on gravel.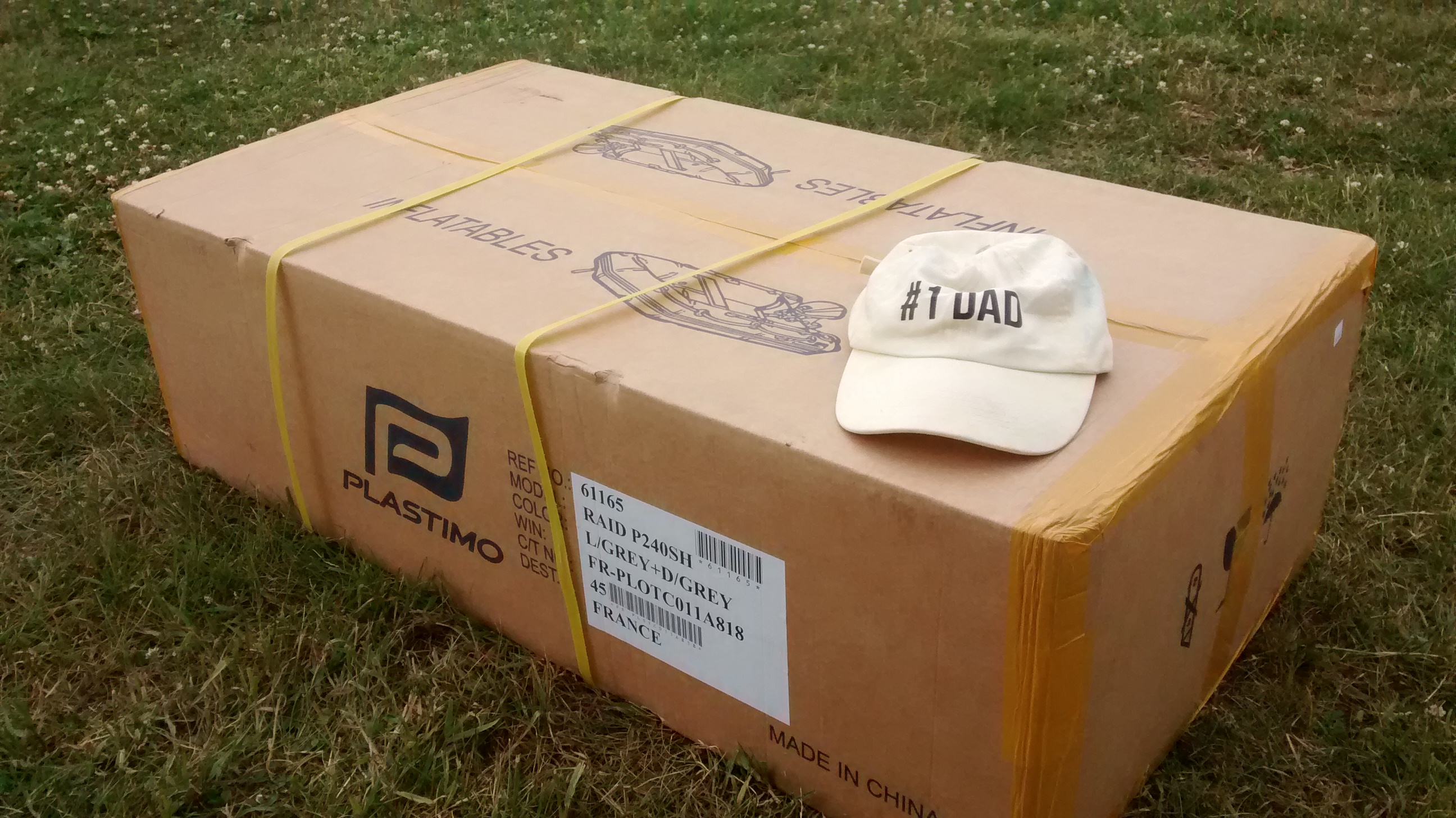 It comes with everything I need to shuttle myself, someone else, and our stuff to a mooring or beach: boat, oars, pump, repair kit, carrying bag, even a painter to tie to my sailboat's stern. Well, everything except for a bailer. I guess the repair kit could double as that in a pinch.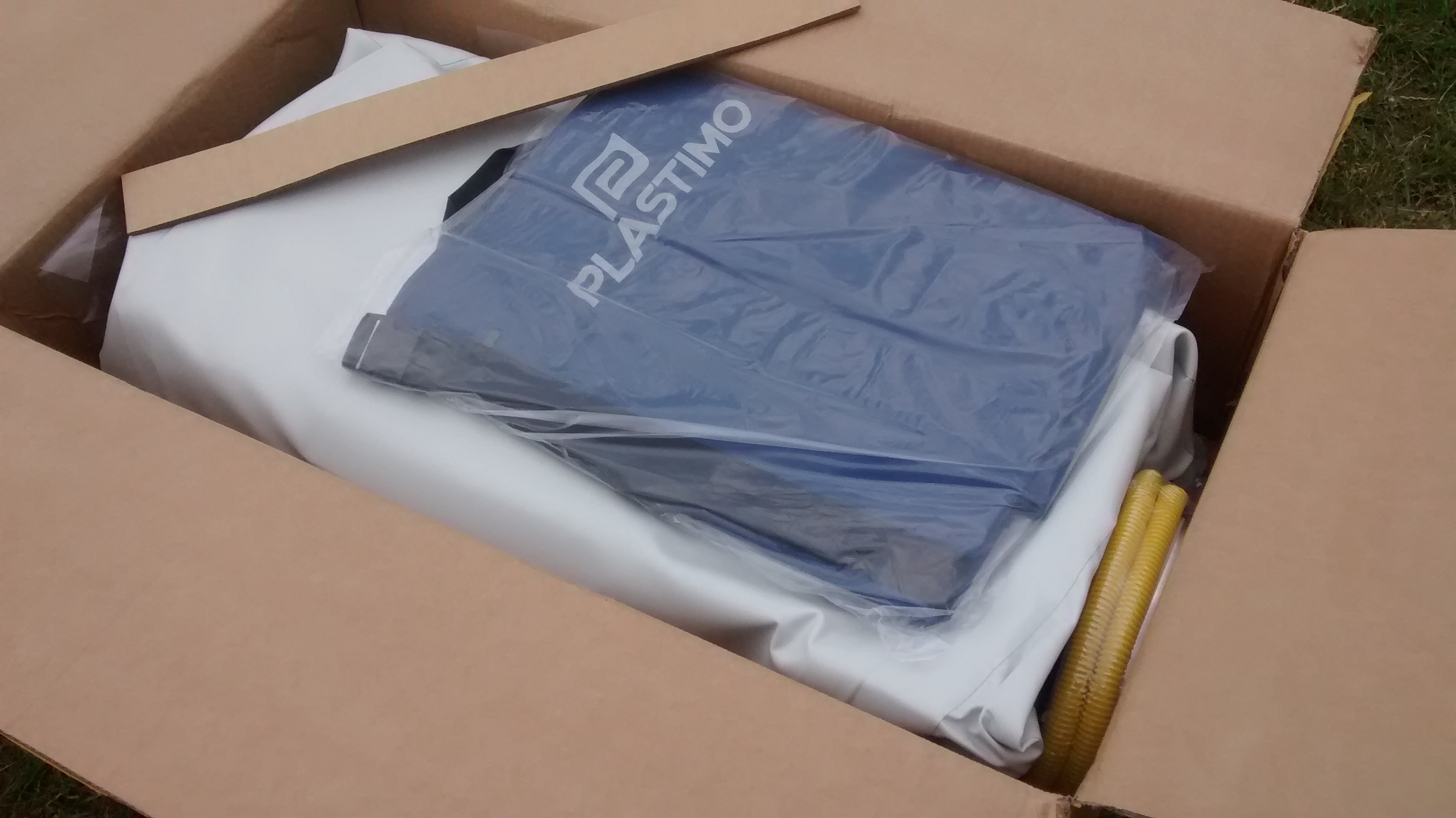 The manual looks like it was printed from lead type then faxed. It is thick for something so simple. But it covers multiple models in multiple languages.
The repair kit is a plastic cylinder that contains adhesive, material, and a valve tool.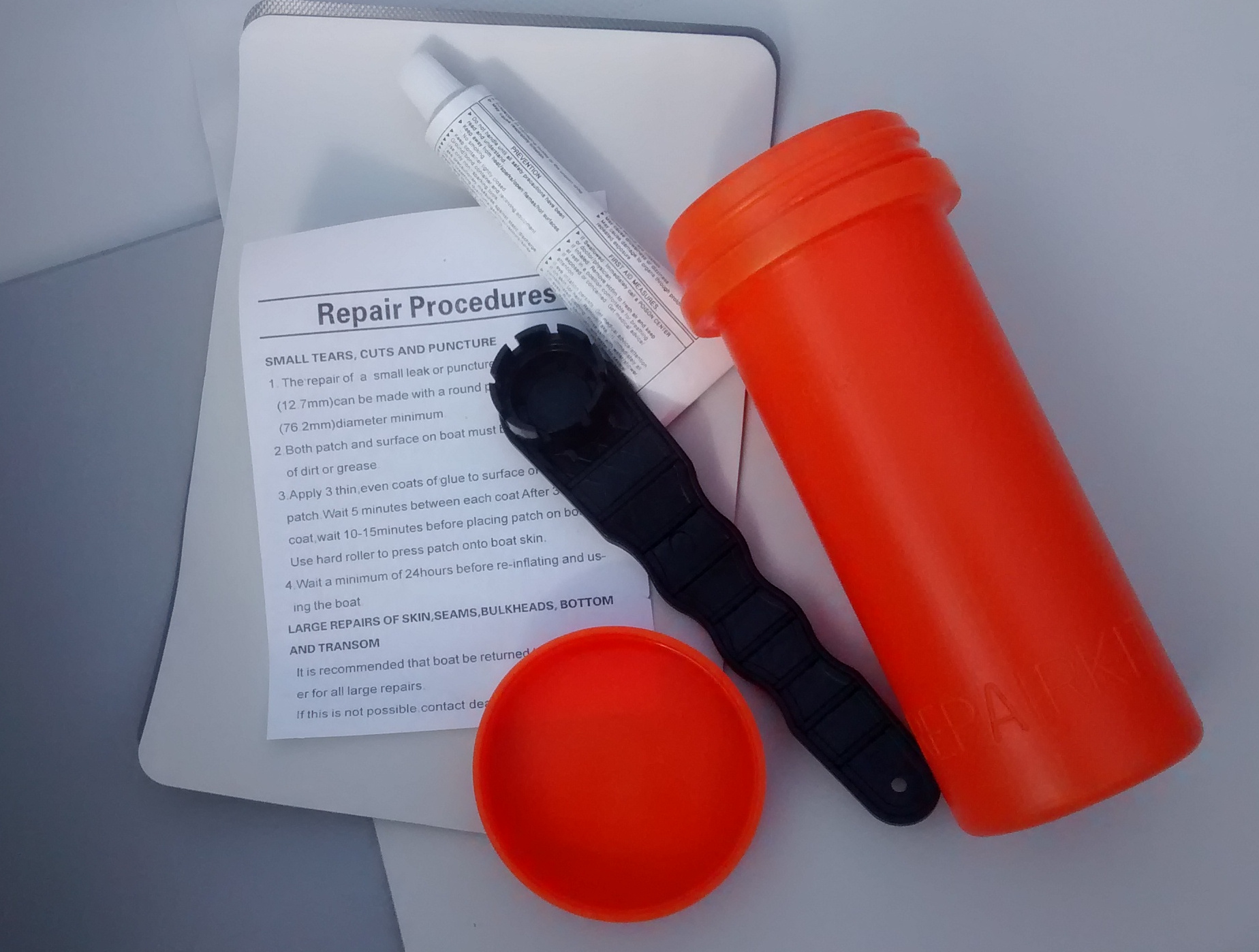 Setting it up
Out of the box, the boat is ready to inflate. Even the 3 floor slats are already in place. I brought some tools to my boat blowing party, but I didn't need them.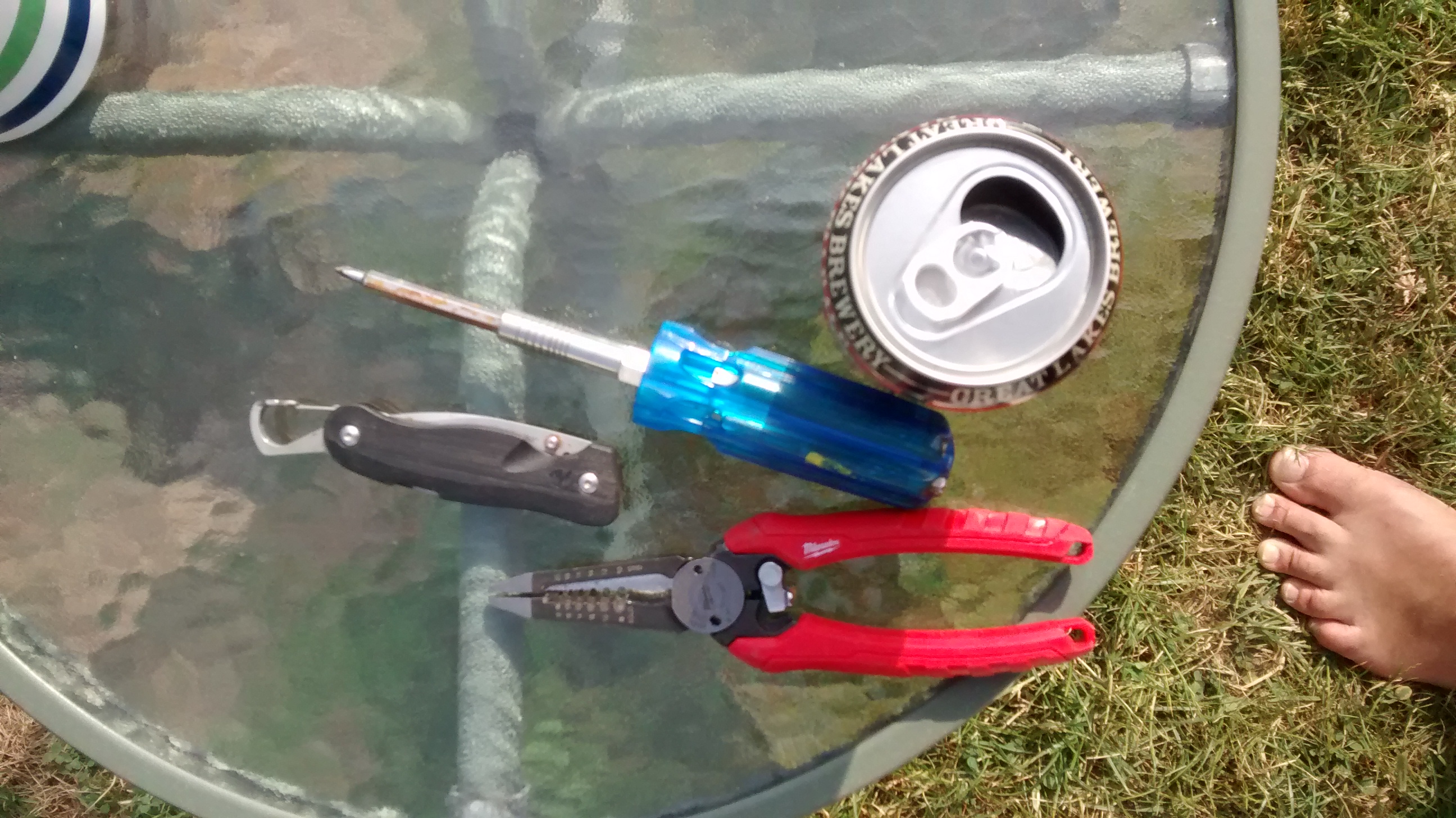 The pump is a simple foot-operated bellows. The boat has 2 chambers. Each chamber has a one-way valve that works well. I was able to connect and disconnect the pump hose with only a split-second release of air.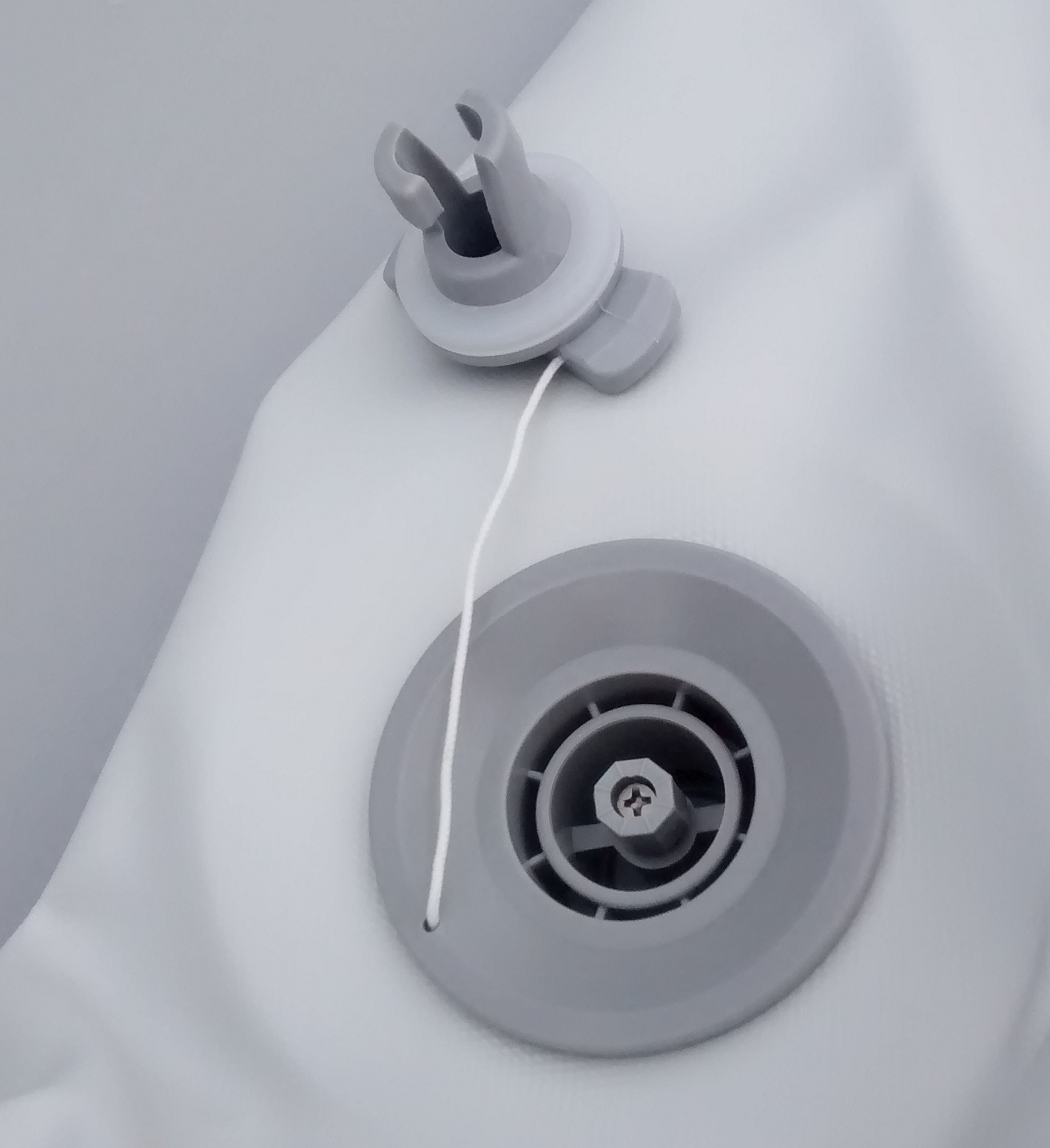 Inflating the first time is a special case. You have to inflate each chamber incrementally to avoid excessive pressure in a single chamber. That's probably good practice every time you inflate.
Even though I followed this first-time procedure and stopped to read the manual a few times, it took me only 21 minutes to get the boat ready to splash.
Fit and finish
Fit and finish are clean and neat. The fabric is a 5-layered arrangement of PVC coatings and fabric named Plastel. There are reinforcement patches for the oar locks, towing rings, seat, and other high-stress areas. The boat is rated for an outboard engine up to 5 HP, but that would be overkill. A smaller outboard would do fine in most cases.
The only defect I could find that I hesitate to mention is a small gap in the plastic edge of the seat. This edge is riveted to the aluminum seat anyway.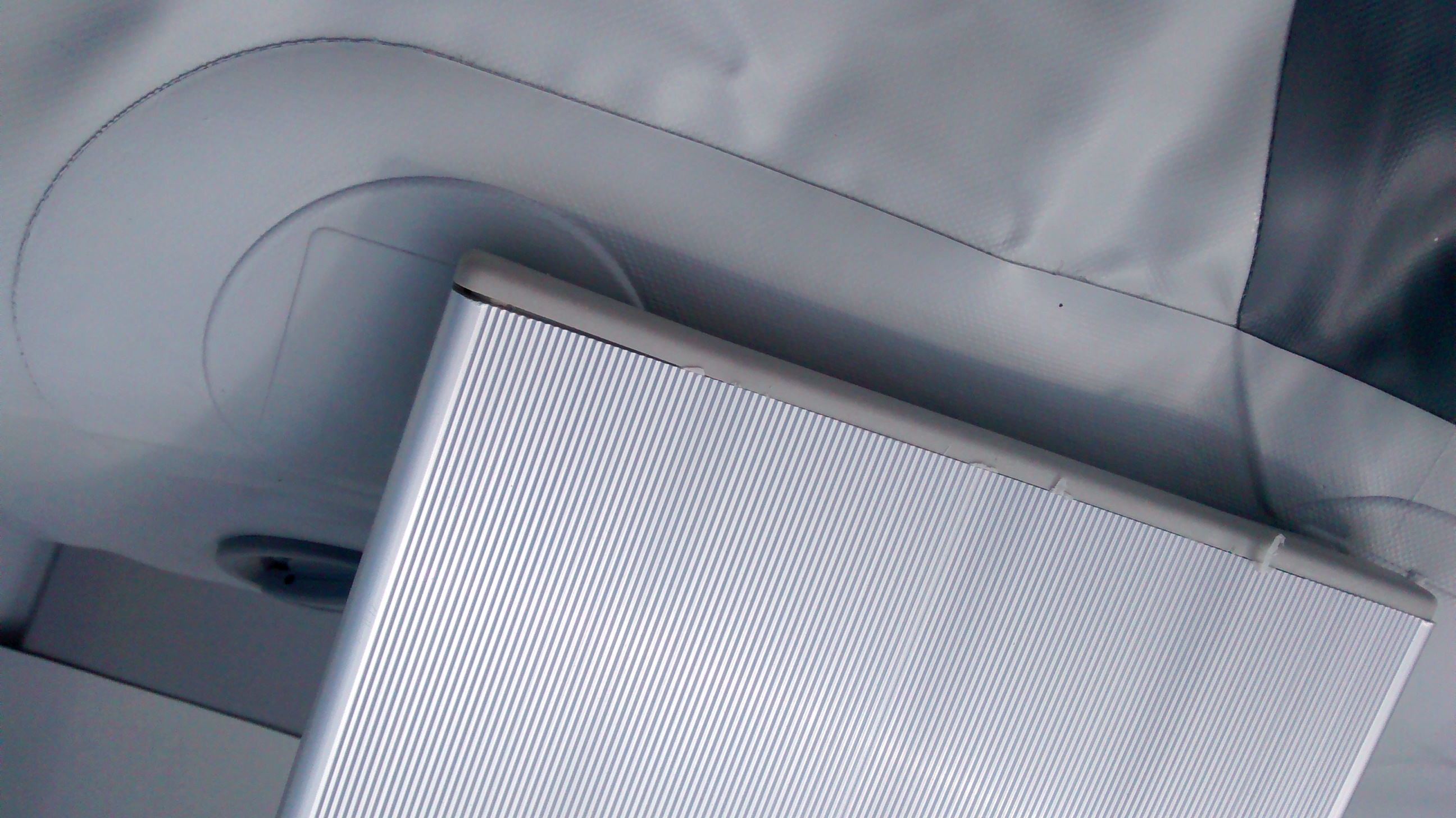 The seat is held by tension between each chamber. You can't use it to carry the dinghy, but it is stable when the dinghy is sufficiently inflated. If it slips out, there's a metal edge that might threaten the boat's fabric in the right (or wrong) circumstances. Maybe webbing with velcro would have been a better solution to attach the seat, more secure and less risk of damaging the fabric.
The oars are in 2 pieces. They connect securely to the oarlocks.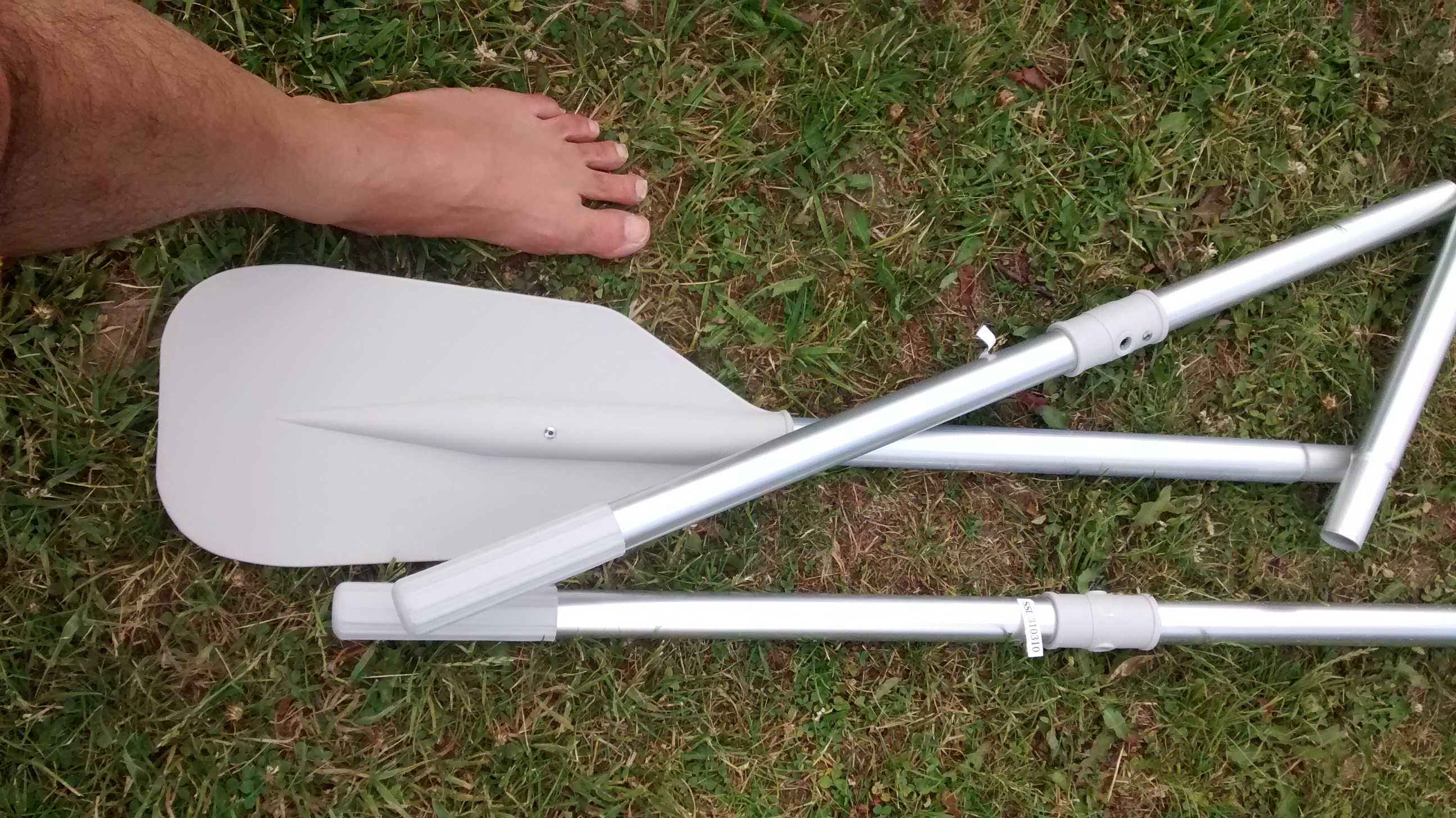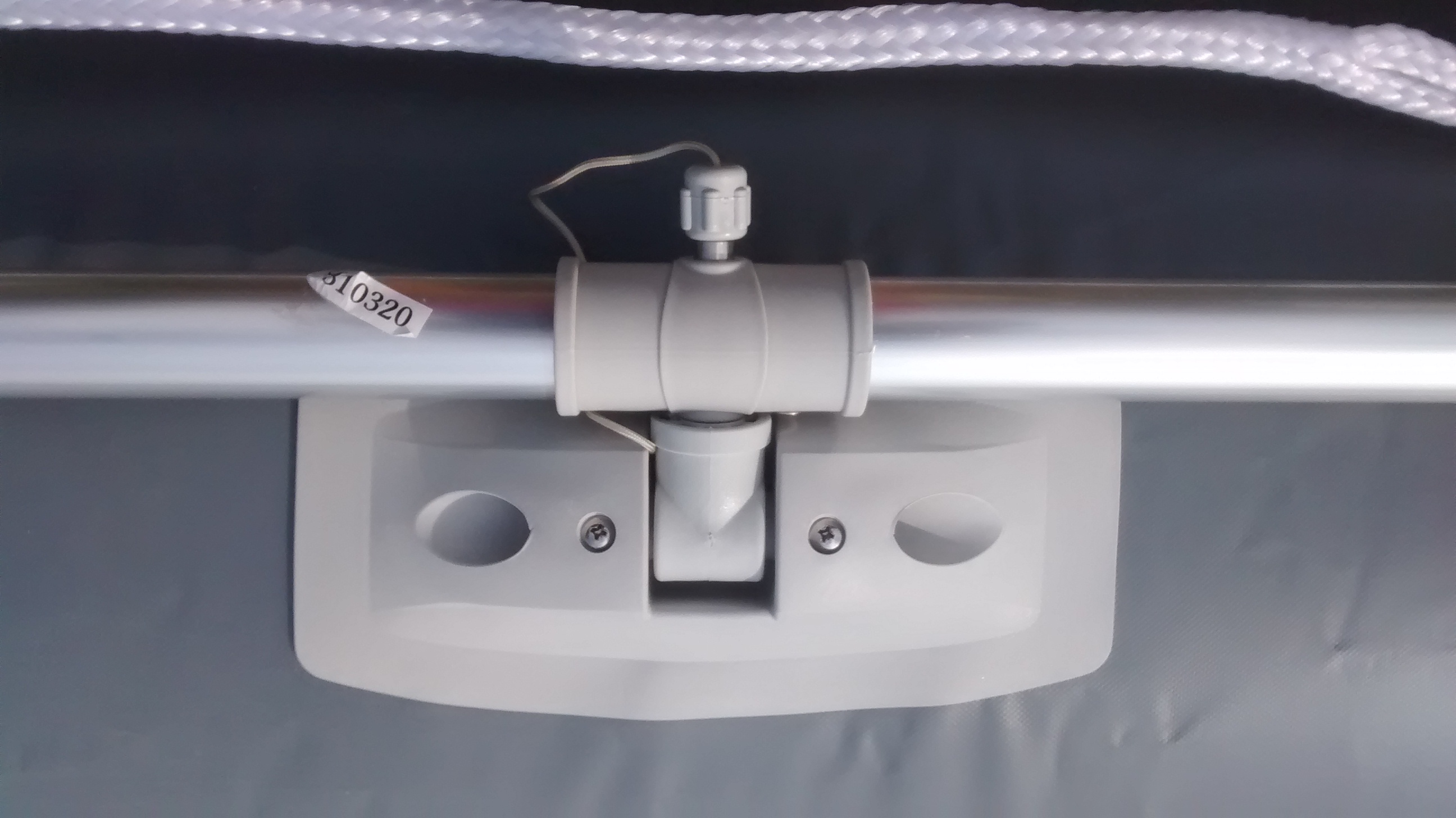 When not in use, you can snap the other end of the oars into plastic flexible brackets.
Taking it down
The manual doesn't describe how to stow the boat. The good news is that it took me just 15 minutes to deflate and wrap the whole thing up in the carrying bag. I left the floor slats in the boat.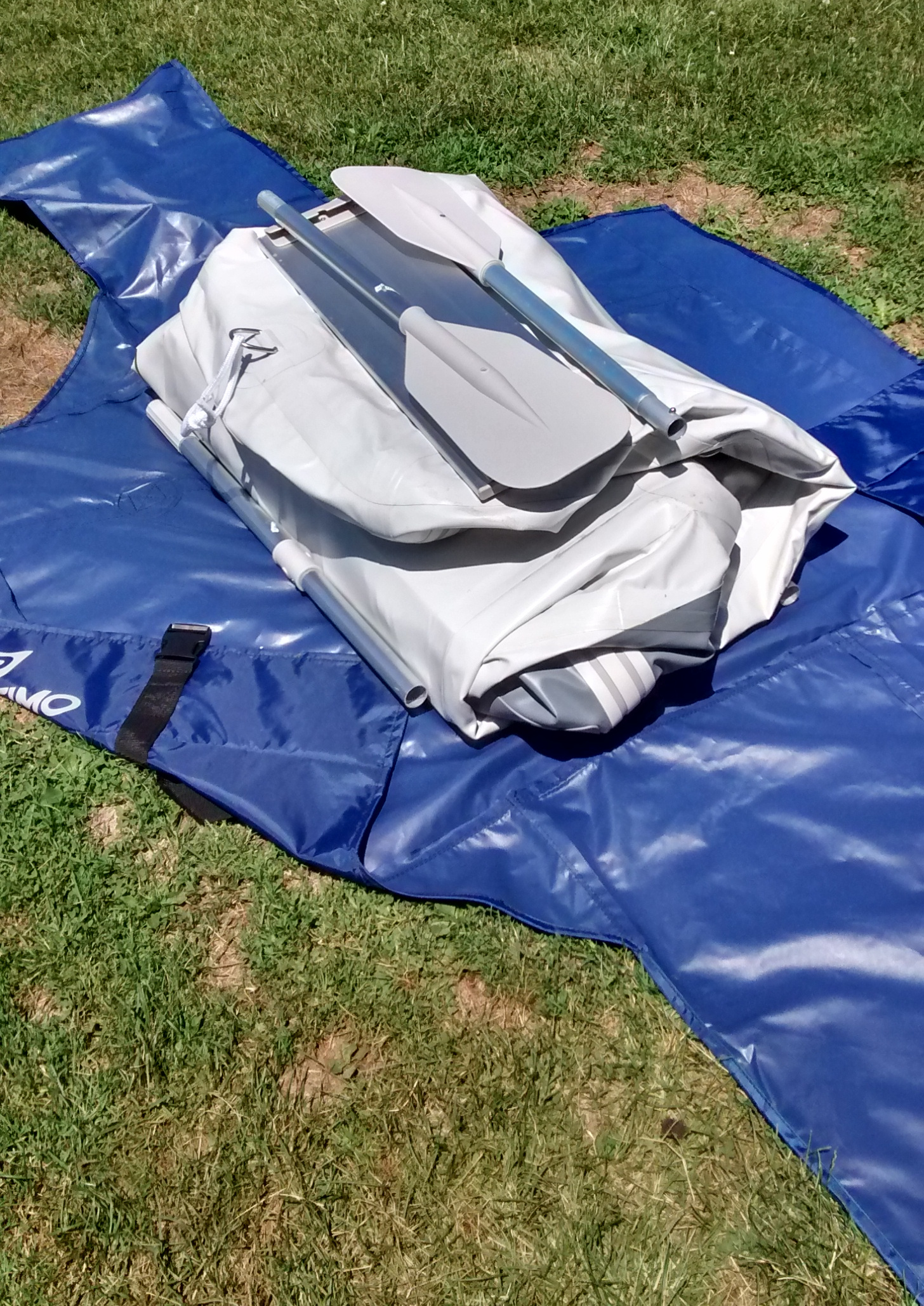 The bad news is that my shitty gift wrapping skills transfer too easily to other areas of my life. Next time, I'll take the floor slats out to fold the deflated boat more compactly.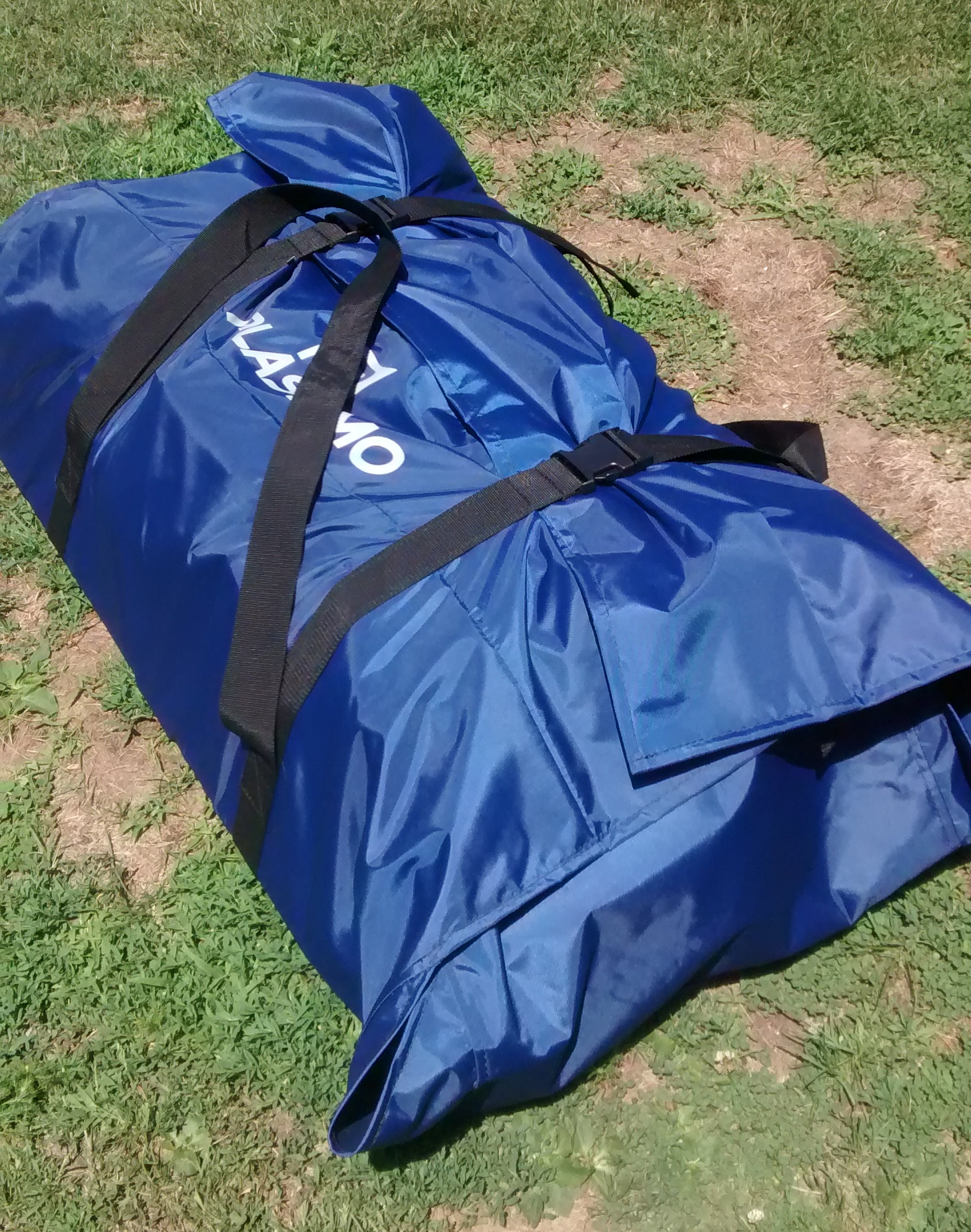 Other things for inflatable tenders
A guide to choosing a 2 HP to 6 HP outboard engine for your small sailboat
At your service
Humbly yours,
Marc
Supreme Purser