Changing the oil on your inboard diesel
The best checklist for changing your diesel inboard's oil (until you find a better one)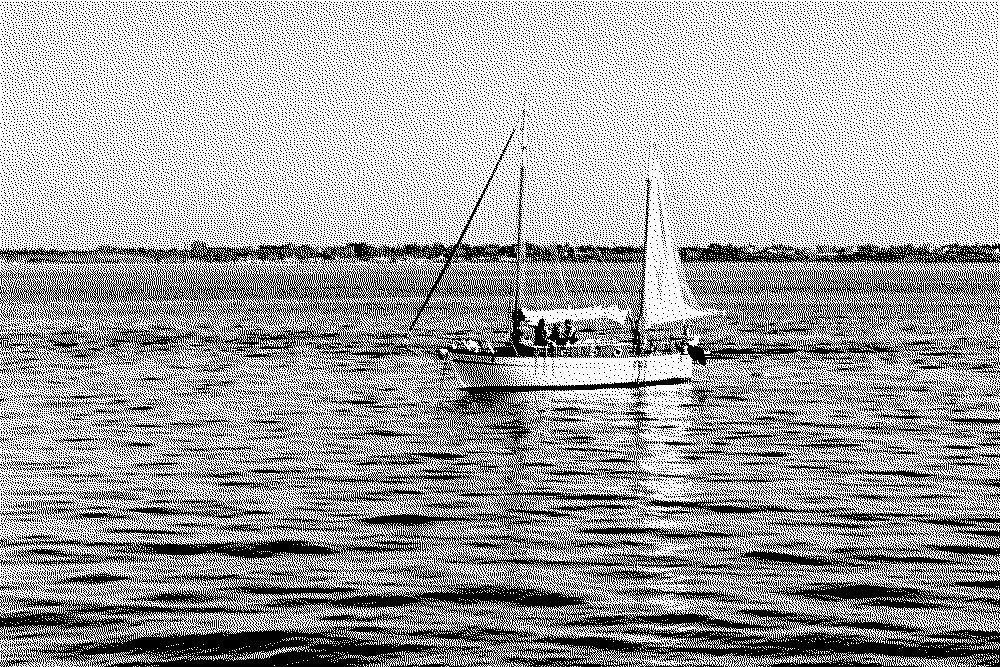 Changing your diesel inboard's oil and filter is like launching a rocket. The difference between success and sudden, expensive failure is a checklist.
I use this checklist for my sailboat's Yanmar 2GM20 inboard engine. You should be able to adapt it easily to other diesel inboard engines.
Contents
Download
A handy PDF for you to download and print: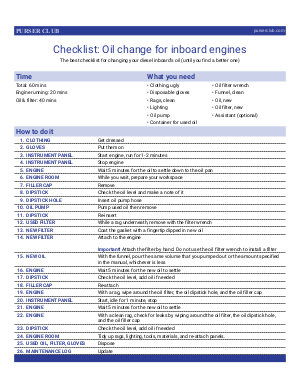 Time
Engine running time: 20 minutes
Oil changing time: 40 minutes
Total time: 60 minutes
Before you start
Read your engine's manual. Just read it. Please. It lists the volume, grade, brands, and all that, for your engine's oil and filter.
Read your engine's manual again. This time compare the steps for oil changing with this checklist. The manual wins.
Find a place that accepts used oil. Your marina's service department, a local car garage, or a municipal hazardous waste center can help you. Ask about the maximum volume they handle and how they accept it. For example, your municipal waste center might only take up to 2 gallons of used oil and keep the container you deliver it in.
Get the tools and materials. Some things you can borrow, like lighting and a pump. Other things you have to buy or barter, like the oil and filter.
Do this during the day, in calm weather. Anchor or tie your boat up in calm water. You can do this on the hard, but you'll need to find a way to run the engine for about 20 minutes.
What you need
Clothing, ugly: Something you don't like or don't mind staining
Disposable gloves
Rags, clean: Preferably in solid colors, not patterns.
Lighting: Something steady, bright, and maneuverable. Examples: a utility light with a hook, a headlamp, or both.
Oil pump: There are few styles of pump. The simplest, cheapest, most compact I've found is a manual hand pump that fits into my engine's dipstick hole. This style of pump works best with an assistant, who can pump while you maneuver the tube in the oil pan. You'll have to provide a container to collect the oil. In my case that's ok because my municipal hazardous waste service takes both my oil and its container and doesn't return either one to me.
Container for used oil: The container should be clear with measurements for volume. In my case, I go the disposable route with a used 2 litre clear plastic beverage bottle. That works well for me because my engine's oil capacity is 2 litres. Before pumping oil into it I mark 0.5, 1, and 1.5 litre increments with a measuring cup and water.
Oil filter wrench: Or a screwdriver and a hammer, but it's messier.
Funnel, clean: Make sure the funnel's tip fits into your engine's filler hole. And make sure the funnel lets you pour from the new oil container.
Oil, new: Read your engine's manual.
Oil filter, new: Read your engine's manual for the part number. Then read the instructions on the new oil filter packaging to make sure you install it properly.
Assistant: This is optional, but definitely nice to have.
At your service
Humbly yours,
Marc
Supreme Purser