Interview: $1 sailboat
The sailor who bought a sailboat for a $1 and lived to tell us about it
A $1 boat is like a lottery ticket. They cost the same and let you dream. Only one kills you with your own disappointment and the other is a lottery ticket.
There's no such thing as a free boat. Unless you're the North Channel Sailor.
He paid $1 for a Hughes 38. That's a Sparkman & Stephens design for only 50 cents per "S."
He also agreed to let me interview him. Turns out a buck and luck aren't the only things he has for making a dream come true.
Purser: Thanks again for agreeing to do this interview. I found about your $1 sailboat on YouTube and I read a thread about it on SailNet.
Before we get to the $1 boat, can you tell me about your sailing experience before you bought it? How did you start sailing? Where?
North Channel Sailor: Sailing started for me after I got a job working in Killarney as a Park Warden. I started there when I returned from over a year of backpacking around the world after university. It's a special place, a wilderness class park with the added bonus of the beautiful waters of Georgian Bay as its western boundary. Of course I saw many sailboats there and began to get invites to sail with friends.
Back then in the early 90s boats were expensive. My main goal then was saving for my own boat. Just about the time when I was ready to pull the trigger I met my wife and soon after we were married. One year after that we bought an outfitting and marina business in the area. We poured all our time and resources into that for the next five years. Then came the children. So for a very long time the boat dream was set aside.
We lived this entire time in a remote wilderness area with no electricity. So when our children reached school age we decided to sell so they could attend regular school. We sold and moved to Sudbury. I thought, wouldn't it be great to spend weekends back in Killarney on our own boat.
That's when I rewarded myself with my first boat. By chance my timing was good. In the US the boat market was tanking and our dollar was at par. I bought a boat for a third the price from what the going prices were here. Bought it sight unseen off eBay and had it shipped from the Chesapeake area. It was a Mirage. A really good quality Canadian-built boat. That boat also needed some work as it sat on the hard for several years.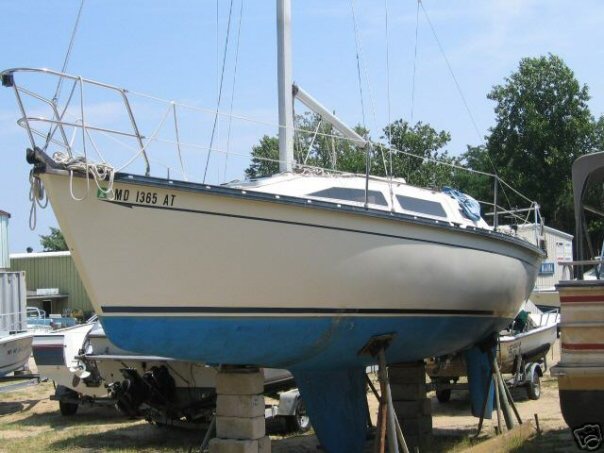 That boat taught me how to really sail and it owed me nothing. We enjoyed it as a family and since my children were very young they grew up enjoying sailing as well. I sailed a lot single-handed too since my wife was often busy with the children and couldn't get away.
A friend and I even took off for a couple weeks and sailed down to Mackinaw so we could race in the MacMan race back to Gore Bay and Little Current. We were the only boat with only a two man crew and we were in the smallest boat. Of course we sailed into a full on gale that first night in the open water outside of Manitoulin!
The Mirage 275 was a big small boat. Just big enough for a young family and small enough to easily learn on. It had a nice roomy salon with no forward cabin, an aft cabin and standing head room. It also had a nice two cylinder diesel engine.
As the children (three boys) got older we outgrew it and after 10 years we sold it. I thought we would take a break from sailing because we were so busy with the kids and their activities and life in general; jobs house etc. etc. Then along came the listing for this beauty several months later. I had always admired the S&S lines of the Hughes 38 so when a free one came around... I was defenceless.
eBay? That's nuts. I'm curious about the risks you considered. How did the seller describe the boat's condition? When it showed up what shape was it actually in? Did you consider the possibility that the boat might end up being a lost cause?
And yeah, Mirage boats still go for a higher price than most other used boats of their generation.
What do you mean by "owed me nothing?"
The Mirage 275 is a pretty basic boat. The really nice thing too about this one was it was completely original and being sold by the original owner. There was also plenty of good pictures. Yes I took a chance but the price was very good as well.
The main thing with its condition was it was filthy from just sitting on the hard and being neglected. I basically doubled its value with a bit of elbow grease.
The tricky part was getting the boat to another yard where the mast could be taken down for transport without actually being there to oversee the logistics. The yard where it was stored never had a crane. I managed to make arrangements remotely with some help from the original owner. I got the boat launched. In exchange for one last sail and a case of beer the owner got the boat moved to the yard where it could be hauled again and prepped for transport.
A funny and scary story though that gave me a chill up my spine when I opened the companionway hatch for the first time. Things could have turned out for the worse very easily from one small thing that happened. The owner was generous and included a bunch of gear and supplies. Before the truck left he put a part can of bottom paint inside for me. He just sat it on a settee cushion. Not in a locker, just placed it on a cushion. The can thankfully didn't bounce off the cushion and get tossed around. Can you imagine the mess if a gallon of bottom paint splattered the cabin! The boat would have been ruined.
I say it didn't owe me anything since I sailed the heck out of it with very little cost. I learned a lot about sailing and fixing boats. Then after ten years I sold it for more than what I paid for it and all the costs to refit her as well. It didn't need a ton of work but basic stuff since it was an entirely original boat from '88.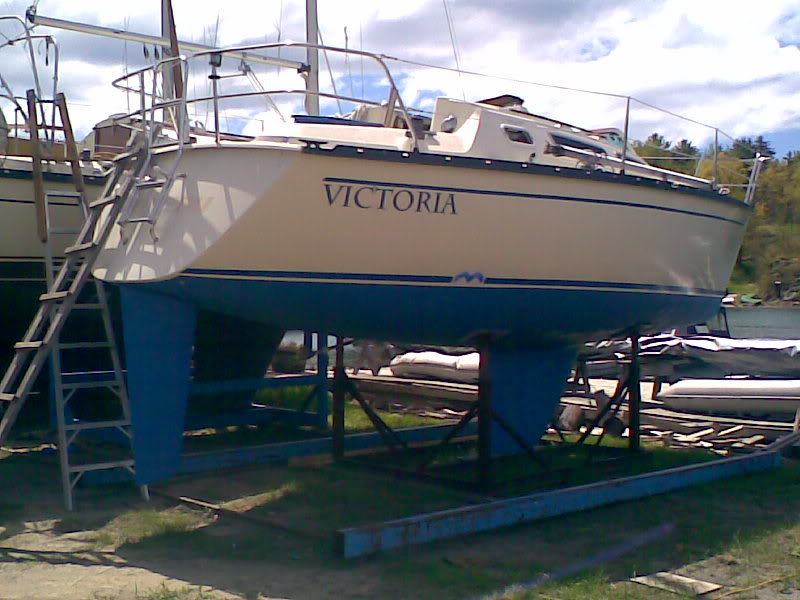 Nice job. So the Mirage 275 needed only cosmetic work? Also, why did you sell her? 2-foot-itis?
Mostly, but she needed to have everything gone through. Everything was old worn out and sat for so long. The worst was repairs on the rudder. Very typical stuff. Rudder had water inside and froze delaminating the skin. Next was a fix on the hull to keel joint. Thankfully no deck or core issues.
Yes, she started to feel small with three teenagers.
Ok, so we're finally getting to the $1 boat.
So you sold the Mirage before you discovered the $1 boat? Were you looking for something specific, or just something bigger? How did you find the $1 boat?
Yes the Mirage was sold first. I knew I didn't want to be a two-boat owner and that we needed a bigger boat.
That summer when the Mirage was for sale a Douglas 32 came up at our club that I could have got for $1000. It was nice except it needed an engine. It eventually got parted out and cut up for way more money. That was sad to see a perfectly good boat scrapped. Boats weren't selling so I didn't know if I would get stuck with two boats.
After the Mirage sold in the fall I kept my eyes open. The H38 always caught my eye. I just love the Sparkman & Stephens designs. This boat is believed to be the same design as the Hinckley 38.
A year before, this same boat was in Kijiji for 10k. I think it was and I enquired about it. I thought it needed too much work at that time. So I bought a boat sight unseen for the second time when it came up again on Kijiji for free.
Yeah, the Douglas 32 is a nice boat. It's a shame it got scrapped.
S&S designed beautiful boats, I agree. Throw in the Hughes reputation for quality construction and you almost can't lose. Almost.
What's your definition of "too much work?" About $10K?
It was listed previously for $10,000 if I recall. Even at that amount I thought it was a lot of boat for the money and the lines are gorgeous.
The H38 has areas of wet core, and water damage inside. It would have also been expensive to keep it where it was so I decided to pass. I decided to sail the Mirage for another season.
You're right, those are beautiful lines.
A heavily discounted boat is a strange beast. Experienced sailors stay away from them, people who have never sailed before are drawn to them. You're in a rare third group, which is intriguing to me.
The owner dropped the price to zero and you changed your mind. Why the price drop and why the change of mind?
The PO initially had big plans for the boat but I think it only went in the water a couple summers starting in 2009. He started to refit at a slow pace. The boat sat for a number of years and it's expensive to keep a boat around Owen Sound that you aren't using. He finally found some cheap long term storage in Meaford. Then he had a heart attack and the work stopped for several years.
After that he decided he would never be able to finish a refit and the boat was in fact declining more every year. He wanted someone to bring her back but the aggravation he was getting trying to sell at a low price was frustrating. Lots of interest but nothing firm. He wasted a lot of time with tire kickers. The next year he decided it really has to get sold and he listed it for free.
I have his survey when he bought. The deck showed elevated moisture in the cabin top and cockpit then. It was all delaminated when I got her. Value $30k! I also found a listing for her from the 90's in the boat's records for $55k. I remember well looking at boats in the 90's and only being able to dream about owning an H38 then.
For me the H38 is a special design from Olin Stephens. I thought any opportunity to own one is worth considering as long as the rig is ok, the hull is ok and if there are decent sails then I thought it would be a worthwhile project. That way I can plan long term repairs and still actually get out sailing. I like starting with a project boat from $1 rather than $10k. Many people start off with a big investment not realizing that even expensive boats often are projects as well.
After we shook hands, the deal: $1 for the boat and hard dinghy (nice!) and $600 for the brand new folding cradle he paid $2000 for. Plus make arrangements to continue the storage payments. See? There is no such thing as a free boat ;-).
Then he asks, "Are you interested in some things I have in storage?" I already got a brand new BBQ and Airhead toilet that was already onboard.
We go out to the Collingwood Airport where he has a hanger and all the boat stuff stored. Along with the sails and cushions he was including, he also had a new outboard motor, autopilot, Muir windlass, rigid vang, propane tanks and other miscellaneous parts.
We agreed on $2k for the extras. I sold most of it including the cradle for over $6k. It was all new stuff that he never got to use or managed to get installed. The Muir windlass alone was new in the box and he paid over $5k for it. New four stroke outboard, Raymarine autopilot in the box etc. etc.
Over $4k in the black was a good start for my project boat.
When I was shopping around for my boat last\ year I avoided anything that was well below market price.
My rationale/prejudice: I want a sailboat on the water, not a project on the hard. I accept that there's a premium for the former.
Actually, that's not true. I thought I was clever when I discovered a half-price Mirage 33 for sale. The seller claimed it floated but I had doubts. After seeing the abuse it suffered I'd be impressed if the seller got even $1 for it.
Back to your boat: That's a sad story for the previous owner. Boats create dreams and boats break them.
Advertising a free boat from a reputable builder and famous designers must have attracted many potential takers. Why did the PO choose you?
And damn, what a deal! Are you lucky or a sailor who can spot a diamond in the rough? Why did I find only an unusable Mirage and you found a usable Hughes?
The Mirage 33 is a great boat. Most are well kept. I'm surprised to hear about a neglected one.
Yes there was many enquiries for the free boat. When I called him I could sense he was getting annoyed with the whole process. He was pleasantly surprised that I was familiar with the design. I think that helped. I didn't hesitate and said I will take it and I drove the 4 hours to meet him the very next day.
I fell in love with her at first site but almost backed out of the deal when I climbed on board. You had to really try hard to look past the damp, rot and mould to appreciate her. However all the great accessories available was a bonus that he never mentioned on the phone.
Also if you are looking for a bargain I think any diamond in the rough has to have good pedigree. It also has to speak to you so you can see beyond all the work needed. In other words having good bones is a must. Everything else can be fixed.
Yes, that's true. It comes down to commitment, right? It's up to the new owner to be realistic about the depth of that commitment. Fall in love with the boat after you buy it, not before.
But you practically bought two boats in a row, sight unseen!
I have to say, though, watching your videos, you're no idiot. You seem to know what you're doing, what your capable of, and what your limits are.
How much work you expect to put into your new boat? When do you think you'll be ready to take her out for an afternoon, a weekend, or longer?
I was out sailing most weekends this summer. She sails like a dream! I'll anchor out Friday and Saturday. Other weekends I will stay on the mooring or at the dock and work on a project or two.
I'm definitely looking at it as a long term project. My priority is the areas with wet core and leaky fittings. Nothing that stops me from going sailing. I'll putter around at anchor too.
Next is the engine. It only has 300 hrs (yes this boat sat on the hard a lot), but it has developed an oil leak. I haven't used it the past two summers. Sure has improved my seamanship getting around without it!
I've been focusing on the fiberglass work. The engine needs to be pulled to work on it. It's in an awkward place. Below the sole and over the keel. Hopefully that gets done in the spring before I start venturing further next summer.
After that it's all just fun cosmetics and a bit of electrical.
So there's nothing seriously wrong with the boat. Original gelcoat or paint on the hull? Rigging and canvas are all serviceable? Ground tackle, windlass?
The engine is an Atomic 4, right? Is it burning oil or just leaking it? I imagine the latter is less hassle to fix.
Tell me more about Hughes 38. SailboatData says there are three versions. Which one is yours? What's the sail plan? Cutter?
No nothing seriously wrong. Just normal maintenance issues. The boat had a major refit in the 80's where the hull had an Awlgrip paint job. The gel coat was originally Robin egg blue.
This is a Mark 1 sloop rig. The standing rig may have been replaced as it looks very good. The original owner didn't sail much from what I read in a sale listing. He was overseas for a number of years and was unable to use the boat.
This design is interesting since it's a transition in ocean racing designs from full keel to fin. It's design is adapted from 12 Metre racing designs originally raced in America's Cup races. If you look at boats like Intrepid you definitely see a resemblance. S&S were the leading design house in ocean racing at the time.
It also has a trim tab with a second wheel for it at the helm. The tab reduces weather helm and side slipping when sailing to weather. I read that it was banned and seen as an unfair advantage for racing. It's a very easily driven hull, narrow long overhangs that increase water length as she heals. In other words, rule beaters for racing.
With no bow roller it relies on light Danforth anchors. I use a large Fortress. I have a 50lb Quickset that I would like to install but need to fit a bowsprit, roller and windlass first to use it easily. I am uneasy using such light ground tackle. I will definitely get a manual windlass. I like keeping things simple.
Lots of really good sails and a useable dodger as well.
The engine developed a leak. A real mystery. Won't know until I pull it. Almost as if there is a crack in the pan. It's impossible to see the way the engine sits under the sole. It will have to be pulled to repair anyway. Hopefully everything can be done inside the cabin with the engine hoisted up.
I had to look up "keel trim tab." I've never heard of or seen anything like that before. And I'm still not sure what the advantage is. Doesn't it compete with the rudder? Can't you just trim sails to control weather helm?
It's similar to what you do in an airplane where you trim out pressure on the stick with a small trim tab. Same idea. The trade off of course is you are inducing more drag.
Where it really shines is where you can reduce sideslipping. It's almost eerie watching other boats slip off course while I sail a straight line. This boat sails incredible to windward anyway and this also helps. I really don't notice any drop in speed either when I employ it. It isn't a very big foil.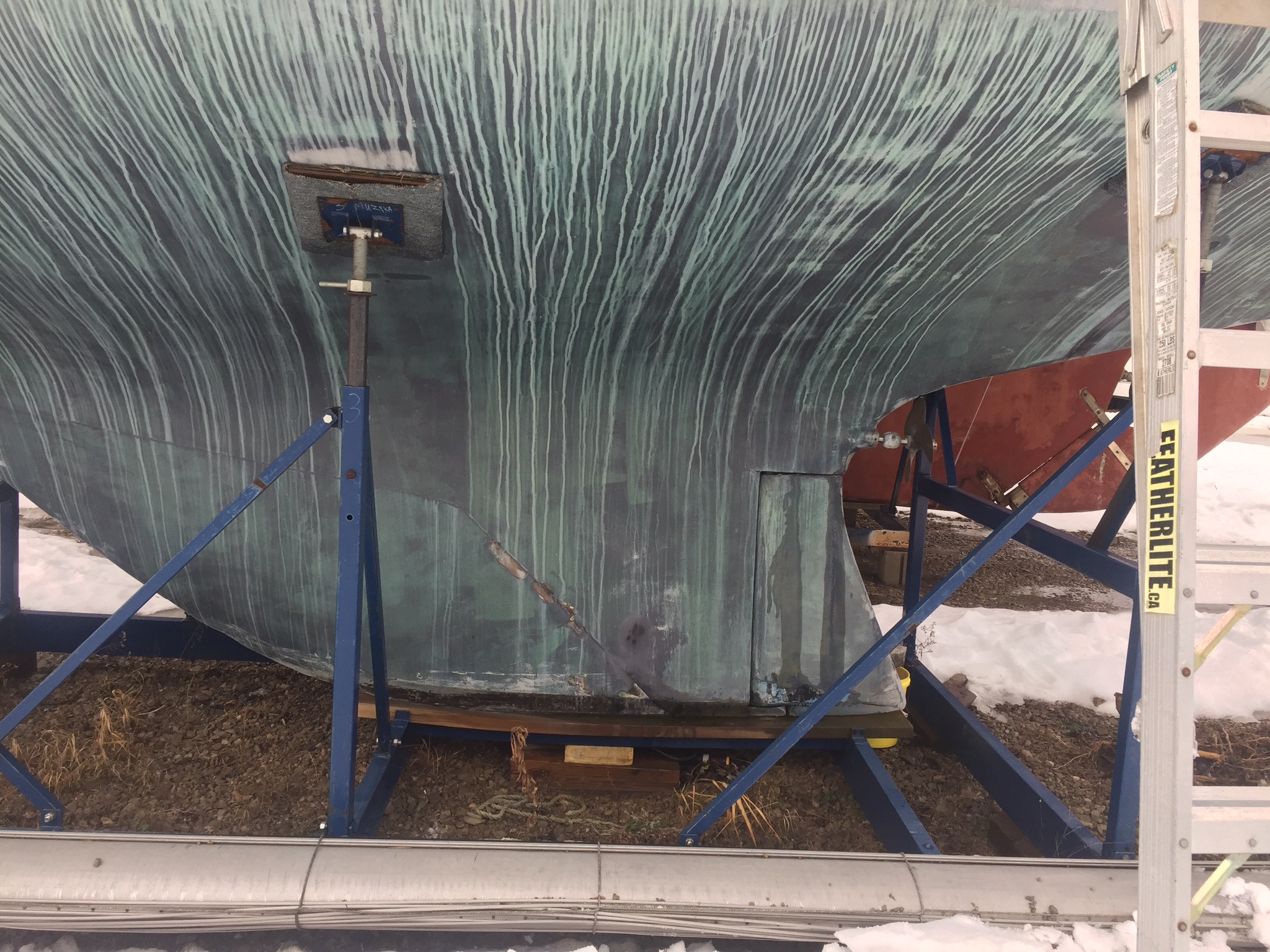 Here I am at the helm. Large wheel then middle wheel for the trim tab and the small inner wheel to lock the trim in place.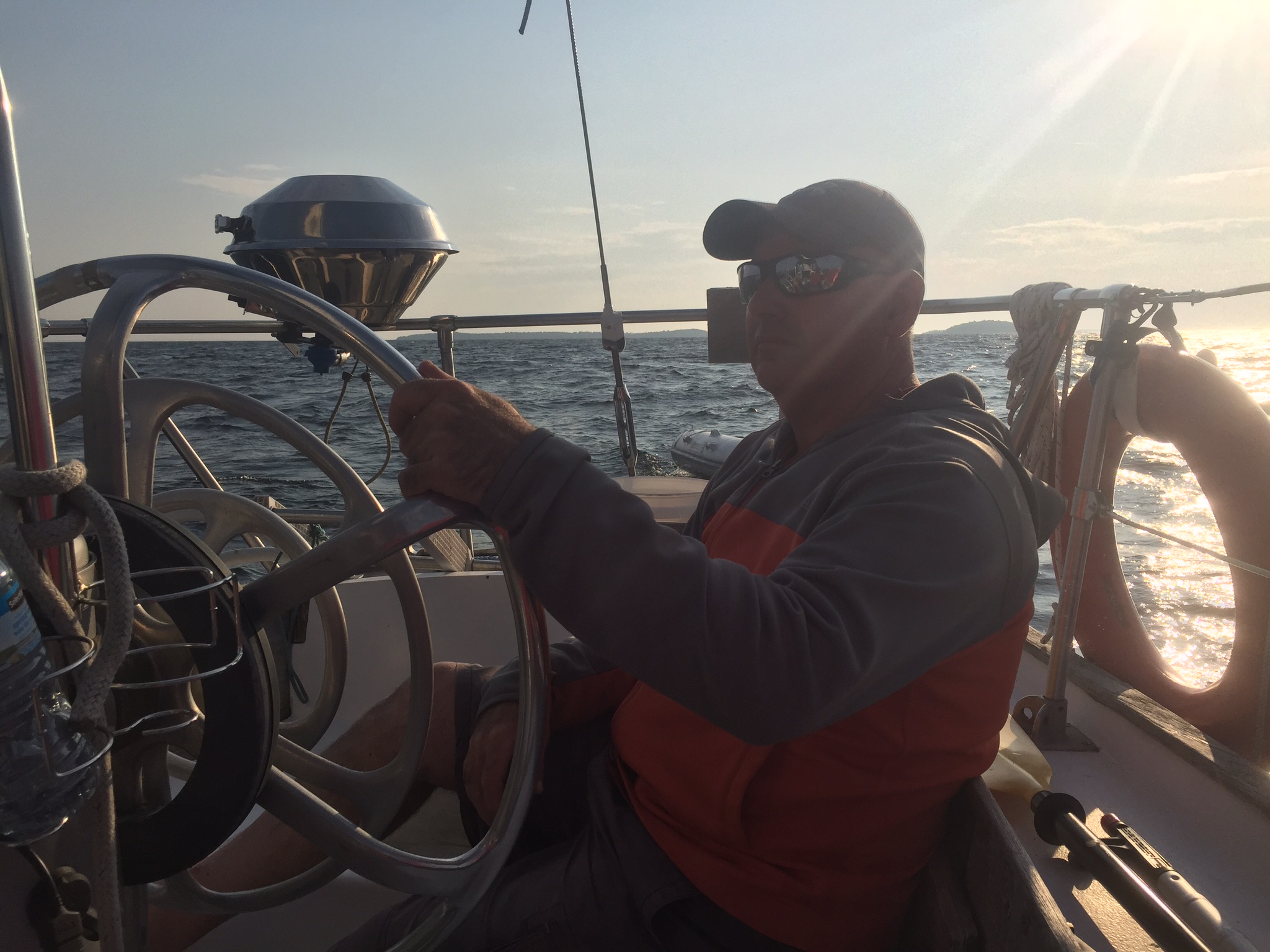 That's pretty cool. You know I never considered sideslipping as something that could be counteracted.
Your 3-wheel pedestal is bad-ass. The lock wheel beats the hell out of the dinky thumb screw on my boat. I have lock wheel envy now.
So any regrets? Two-foot-itis yet?
Definitely no two footitis. If anything I sometimes want a smaller boat. Every job is usually smaller to go along with it. My work is very busy in the summer and sometimes I don't get a lot of boat time. A smaller boat is much easier to manage maintenance wise. This boat may not be my forever boat. I do a lot of solo sailing as well and I see myself better suited to something in the 30-34 range.
Of course in the middle of some projects you think It would be nice to have more sailing days than project days but that's the price to pay isn't it? Even new boats require work so it all comes with the territory.
I can honestly say I have absolutely no regrets. You can't have this much enjoyment for so little money. My club fees are very reasonable around $1000 and insurance is about 500 bucks. A few hundred for repairs and maintenance supplies and I'm good. How can you get out on the water for any less?
That's what it's about, getting out on the water. That's what keeps my sanity. I don't have heaps of money for boats. I'm just a regular working guy with a mortgage and three teenagers making plans for post secondary etc. etc. My one dollar boat has given me my little piece of heaven on the North Channel with just a tiny budget.
That's what it's about, no doubt. What's your advice to someone who wants to do the same thing?
Be aware of how fast ownership costs add up. Especially so all at once. Things like storage, transport, insurance, docking etc. You will need some cash set aside for these initial ownership costs. That's one really why the previous owner is giving you the boat!
Don't be afraid of a little bit of fiberglass work. It's not hard.
Look for a boat that has some useable sails and the rig is ok. After all you want to be able to sail.
Go for it. You can't buy the knowledge of what you will learn doing work yourself. You will also know your boat intimately and that gives you the confidence knowing you will likely know how to fix problems in the future.
Just be aware that just like any boat there will be some costs upfront and they will hit you all at once. Temper your excitement a bit because even a free boat will cost you a good chunk of cash. The ongoing costs sometimes become too much for the current owner especially if they are unable to keep the boat maintained for whatever reasons.
Heh. A boat costs money even when it's just sitting there.
Incidentally, I just watched your latest video. The core repairs are looking good. Also, nice lunch. Damn, I can't wait for spring. Sailing season in the Great Lakes is too short.
That's for sure! I miss escaping for the weekend on the water. Eventually I hope to have the boat in the Caribbean and Florida. I can't think of a better place to spend my winters.
Photo credits
North Channel Sailor
At your service
Humbly yours,
Marc
Supreme Purser